Lastilux is an improved cold foam with very good properties. This type of comfort foam gives luxury and comfort to seat cushions and mattresses. A combination of cold foam and Lastilux makes seat cushions comfortable and very durable. Through the combination of various qualities, amazing end results are achieved. A number of qualities also lend themselves to the manufacture of mattresses. Cold foam / Lastilux is recognizable by the somewhat coarser cell structure.
For seat cushions and mattresses we recommend a comfort foam with a minimum SG (specific weight) of 40 kg / m3. If you want more comfort and a longer lifespan of the cushions or the mattress, comfort foam types with a higher SG have to be used. A combination of two or sometimes three or four different comfort foam types enhances the comfort and lifespan of the entire upholstery.
The better manufacturers of cold foam / Lastilux comfort foam types crush the rough blocks before they leave the factory. Crushing is a way to break the cells (balloons) through a roller. In this way the foam becomes "tired", as it were, and an open cell structure is created. This has only a slight effect on the ventilating effect of the comfort foam. There are sellers who sell these foams as being breathable. Unfortunately, this is not entirely true. Crushing is only done to give the foam more resilience so that pit formation during use is prevented. Because the cells of the foam are already broken in the factory creates a more stable cushion or mattress.
NOTE: A cold foam / Lastilux has minimal ventilating properties. This should be taken into consideration when choosing a mattress core.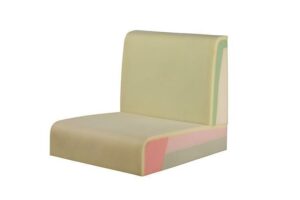 Cushions made of multiple qualities of comfort foam
Neptune has the following seat, back and sleeping qualities in stock:
Cold foam SG25 / 10 (color light blue) soft back quality, which can be combined with a firmer back quality.
Cold foam SG28 / 10 (color khaki) soft back quality, can be combined with a different back quality for extra comfort.
Cold foam SG32 / 15 (color white) slightly firmer back quality, which can be combined with another comfort foam if desired.
Cold foam SG35 / 15 (color yellow) soft seat quality, which is advised in combination with a sturdy or heavier comfort foam type.
Lastilux Duvex SG35 / 10 (color yellow) nice soft finish quality that can be used to give the pillows extra soft comfort.
Lastilux SG40 / 20 (color green), soft quality, also our entry quality for mattresses.
Cold foam SG40 / 25 (color salmon) is reasonable quality.
Cold foam SG45 / 30 (color pink) sturdy beautiful quality for an active seat, for example for the dinette, the steering or navigation chair.
Cold foam SG50 / 35 (color gray) very firm quality, also for the active seat which is heavily used.
Lastilux SG50 / 20 (color white) soft quality that can also be used as sleep quality.
Lastilux SG55 / 25 (color light purple) very comfortable quality that can be used as sitting and sleeping quality.
Lastilux SG70 / 20 (color liver) very comfortable and soft sitting and sleeping quality. The thickness of the mattress core must be at least 18 cm. A mattress core with a combination of the Lastilux 55/25 can be thinner.
In our own workshop the raw blocks of comfort foam are transformed into the most beautiful and comfortable cushions, mattresses etc.
Neptune stocks multiple Cold Foam / Lastilux qualities as raw blocks. With various cutting machines we can cut all qualities in every thickness and shape, as well as in many combinations. Neptune has more than 40 qualities of comfort foam in stock.